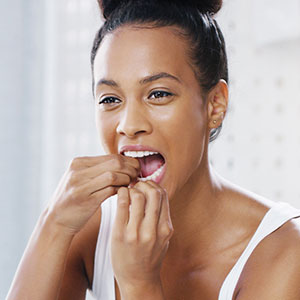 "The Dog Days of summer" once referred to the rise of Sirius (the "Dog Star") with the morning sun during the month of August. Today, however, the term has more of a meteorological than astronomical meaning: It's the muggy point of summer best suited for sipping a cold beverage and doing as little as possible by the pool. A little lethargy can be forgiven during these humid days, but don't let it keep you from the daily necessities—like cleaning your teeth.
Brushing and flossing might seem an unwelcome interruption to your "dog day" pursuits (or lack thereof), but they're still necessary regardless of the season. Together, these twin tasks remove dental plaque, a bacterial buildup of food particles and the primary cause of tooth decay and gum disease.
Daily oral hygiene is one of the most important ways you can ensure your present and future dental health. It also reduces stain buildup to keep your teeth looking their shiny best and helps freshen your breath.
If that's not enough to overcome your summer doldrums, here are a few more reasons why performing these two vital teeth-cleaning tasks is less toilsome than you think.
Just 5 minutes a day. Brushing and flossing take only a fraction of your time each day. You can perform either task thoroughly in two to three minutes. Before you know it, you'll be back poolside.
No "elbow grease" required. Oral hygiene doesn't require a lot of physical exertion, especially brushing. In fact, aggressive brushing could damage your gums. All you really need is a gentle, circular motion, and the mild abrasives in your toothpaste will do the rest.
Flossing help is available. A lot of people find flossing difficult compared to brushing and may skip it altogether. But flossing is necessary to remove plaque between teeth that brushing can't reach. Usually, it's a matter of getting over the initial awkwardness of maneuvering the floss. The major mistake is that people tend to tighten their cheek muscles when trying to get their hands in their mouth. Relax your facial muscles and you can easily get the floss positioned in the mouth for proper technique. But if you don't have the manual dexterity to hold floss between your fingers, you can try pre-loaded floss threaders or a water flosser.
Relax—we have your back. Achieving the lofty goal of great dental health isn't all on your shoulders—we support your personal efforts through regular dental visits. Every six months, we remove hard-to-reach plaque and tartar (hardened plaque) and check for any emerging problems to keep your dental health on track.
A small investment of time and effort each day can help keep your mouth healthy and avoid costly dental treatment down the road. Don't worry: The pool will still be there waiting, so go brush and floss those teeth!
If you would like more information about daily dental care, please contact us or schedule a consultation. To learn more, read the Dear Doctor magazine article "Daily Oral Hygiene."