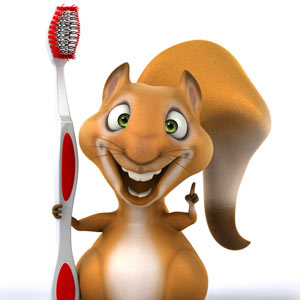 The humble squirrel—darlings to some, bird feeder-robbing nuisances to others—has its own month. Since 1995, the Squirrel Lovers Club of Chicago has celebrated October as Squirrel Awareness Month to pay tribute to this diverse family of rodents with over 270 species. It's also an opportunity to indulge in our favorite "squirrelly" fact: Squirrels' teeth don't stop growing.
And we do mean grow. A squirrel's four front incisors increase about 6 inches a year—a good thing since squirrels put those teeth through their paces gnawing through hard-shelled nuts and seeds. If they didn't keep growing, you'd see plenty of squirrels with worn-to-nothing front teeth.
We humans have some cause to be envious because, unlike squirrels, our permanent teeth stop growing by the time we reach adulthood. That could be a problem since nearly all of us encounter tooth wear as we age.
And it could be even worse. Bad habits like crunching ice, biting into hard foods or using our teeth as tools can contribute to accelerated wear. Some people also involuntarily clench or grind their teeth, creating higher than normal pressure that can wear down teeth.
Suffice it to say, it's worth the effort to quit conscious bad dental practices to prevent your teeth from wearing faster than normal. A teeth-grinding habit, though, may require more than willpower: We'll need to look at other ways to reduce its effect on your teeth.
First, you may want to try to reduce chronic stress, the top contributor to adult teeth grinding. Better stress management with the help of counseling, relaxation techniques, biofeedback or group therapy can all help reduce the occurrence of this destructive habit.
Such efforts, though, can take time. In the meantime, we may be able to help you reduce the effect of a grinding habit with a custom-made mouth guard. This plastic guard worn in the mouth prevents teeth from making hard contact with each other during grinding, and so it reduces the damaging forces that can wear down teeth.
By the way, if you've already experienced excessive tooth wear, not all hope is lost. We may be able to restore your teeth to normal length with the help of bonded porcelain veneers or crowns. After a thorough evaluation, we can give you options for turning back the "age clock" on your smile.
Our teeth may not continuously grow like squirrels', but we can still protect them from the effects of excessive wear. Good dental practices and habits—and restorative measures when necessary—can keep your smile looking as young as ever.
If you would like more information about tooth wear, please contact us or schedule a consultation. To learn more, read the Dear Doctor magazine article "How and Why Teeth Wear."