Posts for: June, 2021
By Dentistry For Northern Michigan
June 20, 2021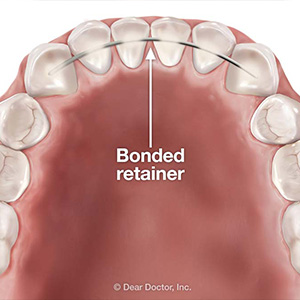 For some, the excitement over their braces coming off gets dampened a bit with the prospect of now having to wear a retainer. But it has to be—newly realigned teeth have a tendency to revert to their previous positions out of a kind of "muscle memory." A retainer prevents that from happening.
But as essential as it is, the standard retainer is almost as noticeable as braces, a major reason why many patients are less than enthusiastic about wearing them. And, because it's common for them to become lost when out of the mouth, replacing one becomes an added expense.
But there's another option—the bonded retainer. This retainer consists of a metal wire bonded to the back of the teeth to prevent them from moving. Because it's fixed in place, only a dentist can remove it.
The bonded retainer addresses the previous two issues associated with a removable retainer. Because it's behind the teeth rather than in front, it's out of sight to others. And, because it's fixed in place, there's no danger of losing it.
But unlike its removable cousin, which can be taken out for oral hygiene, the bonded retainer can make flossing more difficult. And, by nature, a bonded retainer must be worn all the time; a removable retainer allows for a more flexible schedule later in the treatment of a few hours a day.
So, which retainer option is best for you or another family member? A bonded retainer may be more attractive for appearance's sake, if it must be worn indefinitely, or if there's a high probability of the teeth moving out of alignment. And, it might be the right choice where there's a concern about a patient's ability to keep up with a removable retainer.
If you do decide to go with a bonded retainer, ask your dental hygienist for training on using floss with the fixed appliance—this can help improve oral hygiene. Whatever you choose, bonded or removable, your retainer will help you keep that new, beautiful, straightened smile.
If you would like more information on orthodontic retainers, please contact us or schedule an appointment for a consultation. You can also learn more about this topic by reading the Dear Doctor magazine article "Bonded Retainers."
By Dentistry For Northern Michigan
June 10, 2021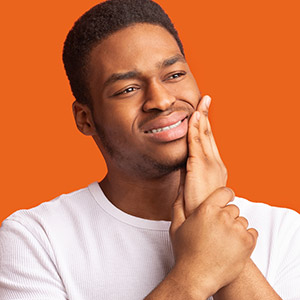 When you see your dentist about mouth pain, you expect to hear that it's a decayed or fractured tooth, or maybe a gum infection. But you might be surprised if your dentist tells you there's nothing going on inside your mouth to cause the pain.
It's not that far-fetched: The pain could be originating elsewhere. This is known as referred pain, where pain radiates from its origin to another part of the body.
Unless there's an obvious oral cause for the pain, it's best not to undertake any treatment involving the mouth until we've pinpointed the actual cause. That said, the cause is usually not too far away.
Facial nerve disorders. The trigeminal nerve courses on either side of the face from the upper skull through the cheeks and ends around the lower jaw. But if portions of the nerve's protective sheathing become damaged, the slightest touch on the face could trigger prolonged pain. Because of its proximity to the jaw, the pain can often be misidentified as a toothache.
Jaw joint pain. When joints connecting the lower jaw to the skull become traumatized and inflamed, a condition known as Temporomandibular joint disorder (TMD), the pain can radiate toward the jaw. In some cases, the person may easily mistake the muscle pain and spasming for a toothache.
Ear infection. As with TMD, your "toothache" may actually stem from an ear infection or congestion radiating pain into the jaw. It can also happen in the opposite direction—ear pain could actually be the referred pain of an infected back tooth—emphasizing the importance of precisely determining the originating source of any pain in the jaws or face.
Sinus pain. The large maxillary sinuses are located on either side of the face just above the back of the upper jaw. Because of its proximity, pain from a sinus infection can seem to be coming from one of the back molars. And as with ear infections, frequent sinus infections could in fact be caused by an infected tooth penetrating through the sinus floor.
These and other examples of possible referred pain illustrate how "tricky" a presumed toothache can be. Finding the true source of oral or facial pain will ensure you receive the proper treatment for lasting relief.
If you would like more information on oral or facial pain diagnosis and treatment, please contact us or schedule an appointment for a consultation.