Posts for tag: retainers
By Dentistry For Northern Michigan
July 31, 2020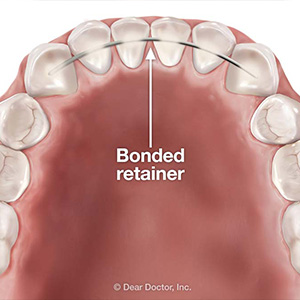 While retainers are often viewed as a nuisance, they're crucial to protect the gains made with bite correction. Without them, all of the progress achieved through braces or clear aligners could be lost.
Here's why: The same elastic gum tissue called the periodontal ligament that holds teeth in place also allows them to move incrementally in response to changes in the mouth. That's why we can move teeth with braces or aligners, which put pressure on the teeth toward a desired direction of movement while the periodontal ligament does the rest.
But the mechanics can also work in reverse: With pressure relieved when the braces are removed, the teeth could revert to their original positions through a kind of "muscle memory." The light pressure provided by a retainer is enough to keep or "retain" teeth in their new positions.
The best known retainer is a removable appliance. Initially, a patient wears it continuously and only takes it out during oral hygiene. Wear duration may later be reduced to night time only and eventually not at all, depending on a patient's individual needs.
While effective, removable retainers do have some downsides. Like braces, they're visible to others. And because they're removable, they're frequently misplaced or lost, leading to the added expense of a new one.
An alternative is a bonded retainer, a thin piece of wire attached to the back of the newly moved teeth to keep them in place. Because it's behind the teeth it's not visible—and there's no misplacing it because only a dentist can take it out.
A bonded retainer is a good option, especially if a patient is immature and not as diligent about wearing or keeping up with their appliance. But it can make flossing difficult to perform, and if they're removed or broken prematurely, the teeth could revert to their former positions.
If you decide to go with a bonded retainer, be sure you get some tips from your dental hygienist on how to floss with it. And if you decide later to have it removed early, be sure to replace it with a removable retainer. Either of these two options can help you keep your new and improved smile.
If you would like more information on bonded retainers, please contact us or schedule an appointment for a consultation. You can also learn more about this topic by reading the Dear Doctor magazine article "Bonded Retainers."
By Dentistry For Northern Michigan
December 15, 2016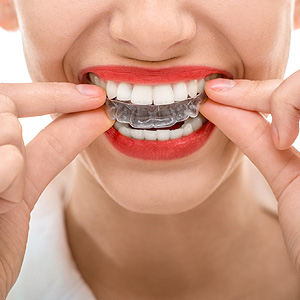 Moving your teeth to a more functional and attractive alignment is a big undertaking. You can invest months — even years — and a lot of expense to correct a bad bite. But all that effort could be for nothing if your teeth return to their original positions.
The very aspect of dental physiology that makes orthodontics possible can work against you in reverse. Your teeth are not actually rigidly fixed in the bone: they're held in place by an elastic gum tissue known as the periodontal ligament. The ligament lies between the tooth and the bone and attaches to both with tiny fibers.
While this mechanism holds the teeth firmly in place, it also allows the teeth to move in response to changes in the mouth. As we age, for example, and the teeth wear, the ligament allows movement of the teeth to accommodate for the loss of tooth surface that might have been created by the wear.
When we employ braces we're changing the mouth environment by applying pressure to the teeth in a certain direction. The teeth move in response to this pressure. But when the pressure is no longer there after removing the braces or other orthodontic devices, the ligament mechanism may then respond with a kind of "muscle memory" to pull the teeth back to where they were before.
To prevent this, we need to help the teeth maintain their new position, at least until they've become firmly set. We do this with an oral appliance known as a retainer. Just as its name implies it helps the teeth "retain" their new position.
We require most patients to initially wear their retainer around the clock. After a while we can scale back to just a few hours a day, usually at nighttime. Younger patients may only need to wear a retainer for eighteen months or so. Adults, though, may need to wear one for much longer or in some cases permanently to maintain their new bite.
Although having to wear a retainer can be tedious at times, it's a crucial part of your orthodontic treatment. By wearing one you'll have a better chance of permanently keeping your new smile.
If you would like more information on caring for your teeth after braces, please contact us or schedule an appointment for a consultation. You can also learn more about this topic by reading the Dear Doctor magazine article "The Importance of Orthodontic Retainers."
By Dentistry For Northern Michigan
November 19, 2015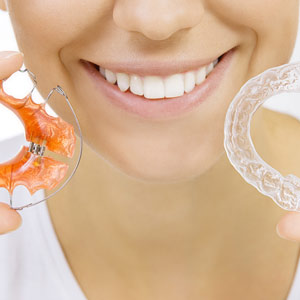 Orthodontics can produce an amazing smile transformation. With today's advanced appliances and techniques even the most difficult malocclusions (bad bites) can be overcome. All of this innovation, however, depends on one basic anatomical fact: though firmly set in the mouth, our teeth can still move.
Teeth are actually held in place by the periodontal ligament, a strong, elastic tissue that attaches to them through tiny collagen fibers on one side of the ligament and to the jawbone with similar fibers on the other side. When pressure is placed against a tooth, the bone on the opposite side of the force begins to dissolve (resorb), allowing the tooth to move. As it moves, new bone is built up behind the tooth, to stabilize it. Orthodontists take advantage of this natural mechanism through orthodontic hardware like braces that applies pressure in the desired direction of movement, while the ligament and bone do the rest.
There is, though, a downside to this process. The teeth, bone and gum tissues can contain a kind of "memory" for the former natural position of the teeth. Over time, the lower front teeth tend to take a gradual migratory movement back towards their original position. Also, as we age the lower front teeth may crowd each other as there is a genetic influence for teeth to move to the midline of the face, causing a pressure that allows the skinny lower front teeth to slip behind each other. As a result of both of these tendencies, corrected teeth may retreat from their new positions.
To stop these tendencies, we use an appliance known as a retainer after braces or other hardware is removed. As the name implies, this appliance "retains" the teeth in their new position. For structural "memory," the retainer will keep the teeth in their new position until the impulse to return to the old one has faded, about eighteen months. Retainers can also slow or stop the natural genetic influence of movement, but it may mean wearing a retainer for an indefinite period, especially individuals who've undergone orthodontic treatment later in life.
The length of time you'll need to wear a retainer after braces — and what type, whether a removable appliance or one permanently attached — will depend on a number of factors including the type of malocclusion, your individual mouth structure and age. We'll recommend the best option that ensures the best chance of keeping your teeth in their new position.
If you would like more information on retainers after orthodontic treatment, please contact us or schedule an appointment for a consultation. You can also learn more about this topic by reading the Dear Doctor magazine article "Why Orthodontic Retainers?"